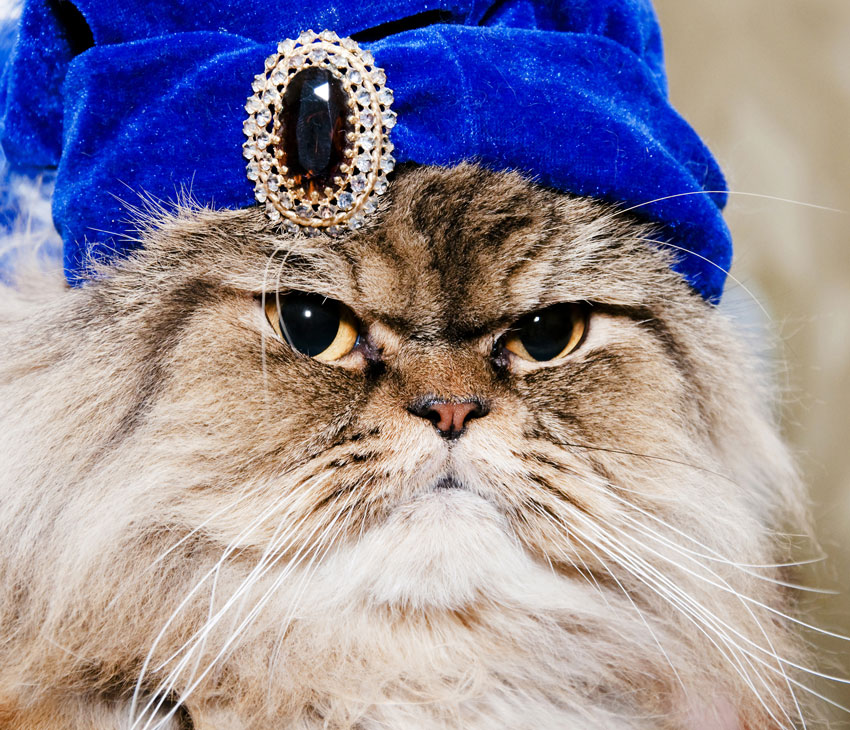 English version
French version
Lyrics – John Lejderman,  Music – Jay Sewall
Aristocratic Cat
I am a very aristocratic cat
I lie on my cushion all day
I don't chase after mice, and I never have lice
I'm too dignified to run outside.
But one thing that's most embarassing
When I hear it's supper time
I loose my cool and meow like a fool
I loose my self-control and jump into my bowl.
I am a very laid-back cat
Laziest you ever knew
I lie on my back and let myself get fat
A yawn or two is all that I can do.
But there is one irritation in my life of bliss
If you move my cushion then I start to hiss
I don't like to scratch, and I don't like to bite
But if you touch my cushion then it serves you right.
I am a very affectionate cat
I only live so you can stroke my back
If you want me to grin, rub my chin,
Oh caress me, it's ecstasy.
If  you pick me up, there's something you should know,
I have a little trouble in letting go,
Try to put me down and you'll feel my claws,
I'll cling to your skin with all four paws
Chatte Aristocrate
Je suis une belle chatte, tout à fait aristocrate
Je me couche sur mon coussin toute la journée
Je mange pas les souris, je préfère les sushis,
Y'a rien trop bon pour un gourmet.
Je commets certains excès, quand ma maîtresse prépare mon lait,
Je miaule pour insister que ce soit prêt
Ne dites pas que je suis folle, quand je saute dans mon bol,
Je peux pas supporter aucun délai.
Je suis une belle chatte tout à fait aristocrate
Je mène la vie d'une dame de société
J'aime pas trop bouger, ça dérange mon sommeil
L'exercice que je préfère c'est de bailler.
Y'a une chose qui me pique, dans ma vie si pacifique
Si on touche mon coussin, je sors les griffes.
Je peux montrer les dents, ou faire couler le sang,
Attention, je deviens émotive.
En plus d'être paresseuse, je suis affectueuse,
Je ne vis que pour avoir de vos caresses
Grattez mon menton, ça me donne des frissons,
C'est même pas important qu'on se connaisse.
Si vous me prenez dans vos bras, il y a une chose qu' il faut savoir
A vous avec passion je me cramponne
Si vous me repoussez, vous risquez d'être déchiré
Je n'accepte pas qu'on m'abandonne.